* FUNNY QUOTES. FUNNY COMICS. UPDATED DAILY *
Funny Quotes about Life & Love quotes.
Funny Facebook Status Ideas.
The Best Comics ever & ASCII art.
Yes, the best quotes of all time, funny quotes.. and comics..  ..This blog does exactly what it says on the tin :)  I set it up to draw attention to some of the, in my opinion, best comics strips in the world and garnished it with arguably the best quotes of all time, funny quotes, plus 2 long hilarious lists of funny Facebook Status Ideas. and an even longer list of Facebook Text symbols and ASCII ART. I recently added videos, as well.  For more, go to the different comics homepages and to the Funny Quotes,  Best Quotes of All Time and Funny Facebook Status pages.    ..Enjoy!
..Simply one of the best comics ever created in the history of comic creation! If you liked this, then go to explosm.net, for more. And buy their books and T-shirts at  at http://store.explosm.net.
Posted: September 1, 2014, 11:05 pm
..if you liked this, then go to wulffmorgenthaler.com & shop.wulffmorgenthaler.dk for more!!
THE OATMEAL
View
Posted: August 30, 2014, 9:47 pm
..if you liked this, then go to Oatmeal.com for more!!
Posted: September 1, 2014, 5:00 am
..if you liked this, then go to dilbert.com and thedilbertstore.com for more!
CALVIN AND HOBBES
..if you liked this, then go to gocomics.com, for more.
XKCD
Xkcd does some superbly weird and wonderful comic strips. I you liked this, then visit www.xkcd.com, for more.
RANDOM COMIC STRIP OF THE DAY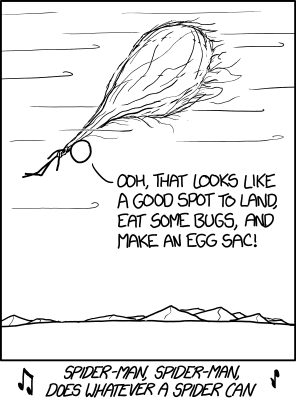 Posted: September 1, 2014, 4:00 am
Quotes of the Day
Frank Lloyd Wright
"Tip the world over on its side and everything loose will land in Los Angeles."
Posted: September 1, 2014, 12:00 am
Eddie Izzard
"If you're choking in a restaurant you can just say the magic words, 'Heimlich maneuver,' and all will be well. Trouble is, it's difficult to say 'Heimlich maneuver' when you're choking to death."
Posted: September 1, 2014, 12:00 am
FAMOUS QUOTE OF THE DAY:
Quote of the Day
Nathaniel Hawthorne
"A pure hand needs no glove to cover it."
THE SOMETIMES FUNNY JOKE OF THE DAY:
The new guy in town decided to take a f...
The new guy in town decided to take a few minutes and head down to the local pub to try to meet some people. He stumbled in at about 7 PM and sat down at the bar to order his first drink.

One of the regulars sitting at the pool table got up and came over to start up a conversation. He says, "hey, I bet you 5 dollars I can lick my eye". The new guy was a little put-off by this introduction, but it was early in the evening so he took the bet. Sure enough, the regular had a glass eye, popped it out, licked it, and put in place.

A funny enough parlor joke, he handed the man 5 dollars and went back to drinking. A few minutes later he returned, this time saying "I bet you 5 dollars I can touch my elbow to the back of my head." Desparate for any attention, the new guy handed over another 5 dollars and watched as the regular popped his shoulder out of joint and touched the back of his head.

Deciding he had already duped the new guy out of $10, the regular headed back over the pool table for the next few hours. As the bartender began to close up shop, he returned for one last wager. "hey, I bet you $100 I can piss on the celing". The new guy looked up at the vaulted ceiling which was eaily 30 feet above and was convince he would soon win his money back and a nights worth of drinking.

The regular pulled it out but didnt even come close, pissing on the bar and the local guy. "Ha! I won all my money back! That was a stupid bet!"

The regular retorted, "yeah, but I bet the guys over there $500 I could piss on you and make you laugh!"
—Now, please visit the individual comic pages on this website for a good chuckle. Also, check out these pages for more Funny Quotes about life, Quotes about Love and, i think, the best quotes ever:
and leave a comment about which quotes, in YOUR opinion, are the best quotes of all time.
There are also pages about the best comic strips in the world: The Wulffmorgenthaler comics strip, The Cyanide and Happiness comic strip, plus the famous Dilbert strip. The wonderful Calvin and Hobbes comics strip can be found on this page.
The FunnyQuotesandComics.com website is updated daily, so please come back again soon.
MOST POPULAR VIDEOS OF THE DAY:
Get your daily video fix here. The most interesting, weird and just plain funny videos of the day. Just CLICK on the videos to play. Or SEARCH for more videos. Enjoy!
Search for more videos in the space below:
HEY YOU, HOT STUFF!  COME BACK TOMORROW!
..thanks :)
Please see the different pages on: Funny Quotes, Quotes about moving on, Inspirational quotes, Quotes about Life and Love quotes etc for more famous quotes.
Please see our  ULTIMATE  page for ASCII ART made from keyboard symbols at the page and Funny Facebook Status . For interesting Facebook and Twitter ideas, please see the page called Facebook Status Ideas .
Today's Incoming page searches:
funny comics, quotes about life, funny quotes about life, FunnyQuotesandComics-Quotes Comics FunnyFacebookStatusIdeas!, quotes, love quotes, funny comic quotes, funny sayings